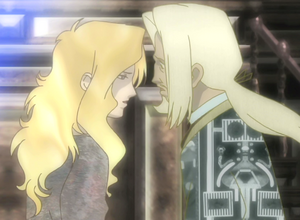 Prosecutor de Villefort and Baron Danglars exerted their influence to help Albert's father Fernand Mondego became a candidate for president. As, ostensibly, a pillar of justice in the community, the past misdeeds of Gerard represent its greatest betrayal.
His father Noirtier de Villefort murdered Franz d'Epinay's father.
The eighth episode first reveals a part of the sordid conspiracty to murder his son Andrea Cavalcanti, who was left for dead by Gerard and Héloïse de Villefort. Nothing good ever happens for the right reasons in Gankutsuou, so Gerard is actually framed for the Countess' crime, and in the 21st episode his own real crime is revealed, but never addressed by the law he served.
Community content is available under
CC-BY-SA
unless otherwise noted.