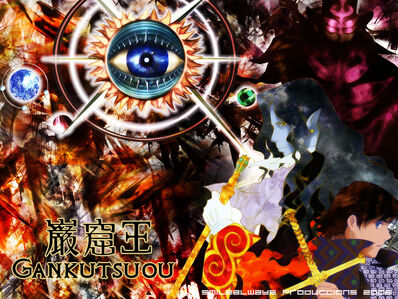 Welcome to New Wiki Name
New wiki name is a collaborative website about your topic that anyone can edit!
The Count of Monte Cristo: Gankutsuou
Edit
Gankutsuou: The Count of Monte Cristo (Japanese: 巌窟王 Hepburn: Gankutsuō, literally The King of the Cavern) is an anime series loosely based on Alexandre Dumas's classic French novel, Le Comte de Monte-Cristo. Spanning 24 episodes, it was produced by Gonzo, directed by Mahiro Maeda and broadcast by Animax across its respective networks in Japan, East Asia,Southeast Asia, South Asia, Latin America, and other regions.
Gankutsuou's unusual visual style layers Photoshop textures into digital animation, with backgrounds often rendered in 3D.Gankutsuou is set in the far future, during the year 5053, whereas Alexandre Dumas's original novel takes place during the Bourbon Restoration. Though Gankutsuou incorporates elements of science-fiction and fantasy, it also retains many aesthetics of France in the 19th century, particularly in regard to social classes and wealth. In addition, each of the episodes (of the Japanese dub) begin with a summary spoken in French.
Geneon Entertainment acquired the North American release rights for Gankutsuou and released it under the title Gankutsuou: The Count of Monte Cristo.[1] As of September 12, 2006, all six volumes have been released on DVD. A box set was also released as a compilation of the six DVDs. On December 27, 2008, Funimation announced that they had acquired the license and planned to release the series in 2009.[2]
This is a wiki about the anime based on Alexander Dumas' classic novel The Count of Monte Cristo. It should be warned that THIS SITE CONTAINS SPOILERS AND SHOULD NOT BE READ BY THOSE UNPREPARED FOR THIS.
Latest activity
Edit
Community content is available under
CC-BY-SA
unless otherwise noted.